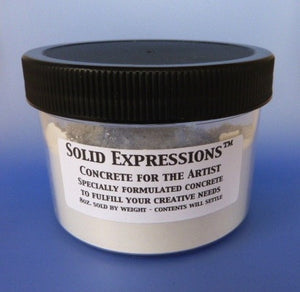 Solid Expressions™ Concrete
Solid Expressions™ Concrete
Concrete may seem an unlikely material for jewelry, but time to discover the endless creative possibilities! It's lightweight, easy to use, extremely versatile and inexpensive.
Concrete is lighter then stone, resin or metal of comparable size, making it perfect to use for jewelry and other objects of personal adornment.
Discover how concrete is so strong you can bezel it, or just leave it free-form without a bezel. You can form the concrete using molds made from polymer clay, cold-mold silicone, candy molds, fold-formed metal, plus lots more.
You can set gems, crystals, metal clay, polymer clay and found objects – virtually anything – into the concrete for a permanent cold-connected piece.
You can set micro nuts and bolts right in the concrete creating ways to attach other elements to your piece.
Concrete sets in minutes, cures hard and is ready to use in about an hour, making it perfect for a myriad of uses in jewelry and other art forms.
You can now mix great colors with our pigment collections, so get ready to create with colorful concrete!
8 ounce container, sold by weight.  Contents will settle
For basic instructions for mixing, curing, finishing and the MSDS for Solid Expressions™ Concrete please click the link below
---
We Also Recommend